ARUSHA NATIONAL PARK
This quaint National Park is the perfect way to begin or end an African safari. Situated on the Eastern edge of the Great Rift Valley, this park is home to the Momella Lakes, Ngurudoto Crater and Mt. Meru (the fourth highest peak in Africa). Mt.Meru or Ol Doinyo Orok or Black Mountain by the local Masaai tribe. This once active volcano had a major eruption in 1877 and is now considered extinct. Arusha national park is a bird watchers paradise with residents like the Silver Hornbill, Flamingos, Pelicans, Geese, Grebes, Storks, Turacos, Crowned Eagles, Forest and Auger buzzards and the rare Bar tailed Trogon. There are about 18,000 butterflies worldwide with about 1400 species in Tanzania. Located midway between Cape Town and Cairo, Arusha is where most visitors stay or pass through and a visit to the park and the town would be worth it.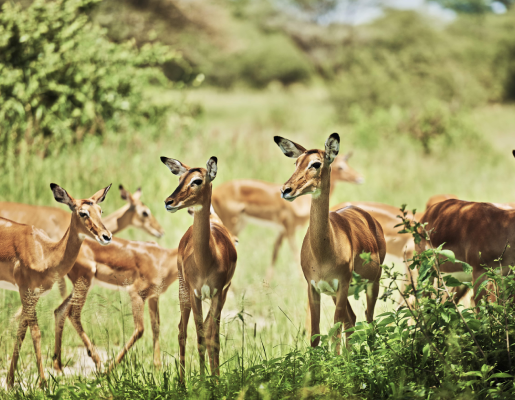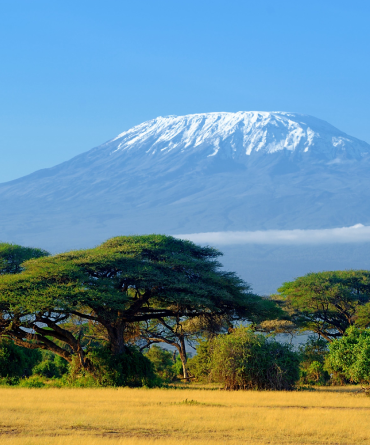 KILIMANJARO
The majestic Mt. Kilimanjaro is just South of the Equator and is the highest freestanding mountain in Africaarising to 5895m or 19340 feet. The mountain comprises of three extinct dormant volcanoes namely Kibo or Uhuru (5895m/19340ft), Mawenzi (5140m/16992ft) and Shira (3962m/13075 ft) The people who live on and around the mountain are called Wachagga and have inhabited the land for over 400 years. Over 20,000 people a year scale the mountain to Uhuru and Mawenzi and almost 80% use the "Coca Cola" or Marangu Route. To climb the mountain visitorsmust provide details of their planned routes, they must use authorized guides and porters. Visitors need to equip themselves with proper walking boots, warm clothing, gloves, sunglasses and a balaclava. Altitude sickness is not uncommon the higher up the mountain you go.
The Marangu Route takes five days. There are other routes to choose from such as Mweka, Umbwe, Machame and Shira. Visitors are expected to go through different ecological zones starting with the densely populated slopes at 1800m/5940 ft., Forest Zones from 2800m/9240ft, Heath and Moorland from 4000m/13200ft followed by highland desert at 5000m/16500ft and the summit is typically artic conditions and subzero temperatures at night and blistering sunshine by day.
LAKE MANYARA NATIONAL PARK
During the British rule Lake Manyara was an important hunting area. It is 330 sq. km in size and two thirds of the park is Lake Manyara which is home to flamingos, pelicans, geese, duck, teals, herons, avocets, egrets, fish eagle, hamerkop, Egyptian geese and other water birds. Lake Manyara is renowned for its famous tree climbing mountains (although lions do climb trees in other parks), it is also known for the highest density of elephants. You can expect to see zebra, wildebeest, buffalo, hippos, giraffes, impala, waterbucks, baboons, vervet monkeys and over 380 species of identified birds. Lake Manyara has accommodation to suit all budgets as well as activities for everyone such as walking trails, treetop walks etc.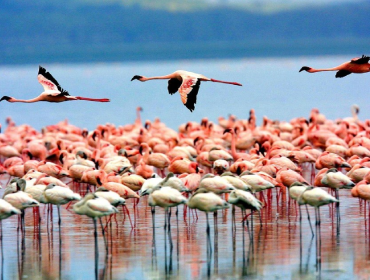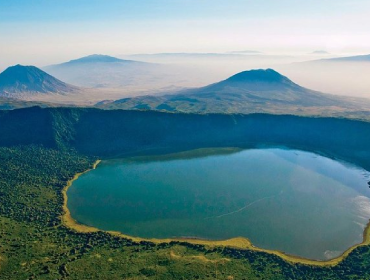 NGORONGORO CRATER
Ngorongoro Conservation area is 8292 sq. km and the crater is 19.2km in diameter and 610m deep. You can expect to see lions, hyenas, buffalos, rhinos, leopards, cheetahs, Elands, Grants and Thomson's Gazelles, Jackals, Greater and Lesser flamingos with over 25000 animals this is an amazing game viewing area. Giraffes do not descend into the Crater. Ngorongoro is the world's largest unflooded and unbroken caldera caused by the inwards collapse of a volcano. Morning and evening game drives are the best for game viewing. Incredibly during the German rule two German brothers named Seindentopf farmed the whole Ngorongoro Crater before World War One. This conservation area is defined as multiple usage where the indigenous people, visitors and wildlife are protected.
OLDUPAI GORGE
You will notice the changing landscape as you drop down the Wetsernside of Ngorongoro towards Oldupai. The Gorge runs from the West to East with shallow lakes Ndutu and Masek on the Southern end. The Laetoli footprints are 3.6 million years old and can be found on the Southeast of Oldupai. These are the footprints of a man, woman and a child and are considered the oldest footprints in the world. Dr. Louis and Mary Leaky dedicated 60 years of their lives to search for the origins of mankind. Only after 24 years of her arrival did Mary Leaky find Zinjanthropus aka the Nutcracker Man in 1959, in 1960 Jonathan Leaky found Homo Habilis and Louis Leaky excavated Homo Erectus.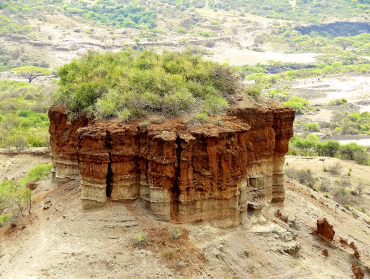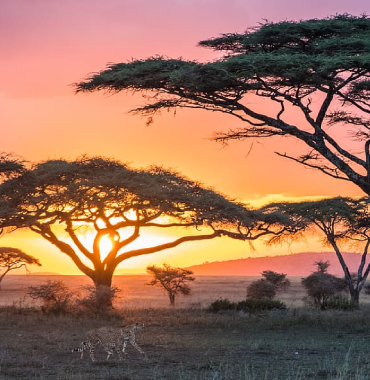 SERENGETI NATIONAL PARK
Looking for an action packed safari? Serengeti originates from the Masaai word Siringet which means wide open plains and is the host to the annual pilgrimage of some 1.5 million animals in search of grass and water. This is the largest park in Tanzania measuring 14,763 sq. kms and is accessible by vehicles all year round. The animals will cover at least 3200km/2000 miles and devour over 4000 tonnes of grass a day. During this period a quarter of a million animals will be born. From December to May the migrating herds give birth and regain their strength on Lake Ndutu and the Naabi Hill. As the water becomes scarce in May the animals head northwest to the Simba and Moru areas then heading to Kenya's Masaai Mara during September and October. At the Grumeti River crocodiles lurk waiting to prey on the weaker members and calves. Leopards are often found around the Seronera River. Other predators include cheetahs, lions, jackals, hyenas and vultures. Not all animals join the migration and you can expect to find elephants, giraffes, buffalos, topi, impala, ostriches, Kori bustards as well as a plethora of reptiles.
TARANGIRE NATIONAL PARK
The park is 118 km Southwest of Arusha and Tarangire is 2642 sq km in size and was established in 1970, it is located in a semi-arid area characterized by brief phases of rain followed by a prolonged dry season. June to February is the best time to visit the park. More than 500 bird species have been recorded as well as over 6500 elephants reside in the park. You can expect to encounter White bearded wildebeest, buffalo, guinea fowls, lions, African wild dogs, bat eared fox, serval cats, leopards, mongoose, bushbuck, water buck, oryx and other animals.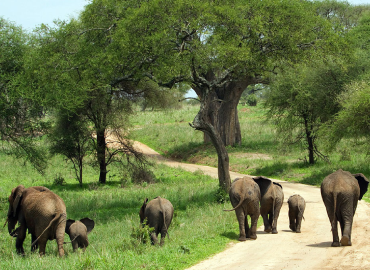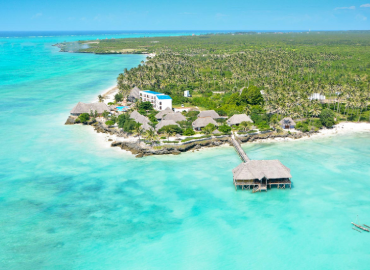 MAFIA ISLAND
Mafia Island Marine Park was officially declared in 1994. Most of the Marine Park is less than 20m below mean tide levels. The island is 48km long and 17km wide. For the expert and novice snorkeler Mafia offers dramatic underwater views. Visibility is up to 20-25m deep from October to February dropping 5-10m deep from June to September. There are over 2000 species of fish and a colorful array of coral.
BAGAMOYO
Bagamoyo was once the gateway for merchants trading with the Swahili people, it was the exit points for slaves and ivory and the entry point for European explorers. Persians settled in Bagamoyo from the 13th century for about 500 years, then followed by the Portuguese for 200 years, followed by the Omanis, Germans and finally the British. Many people in Bagamoyo are the descendants of slaves.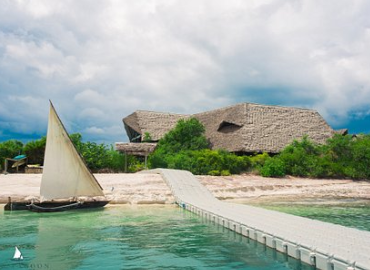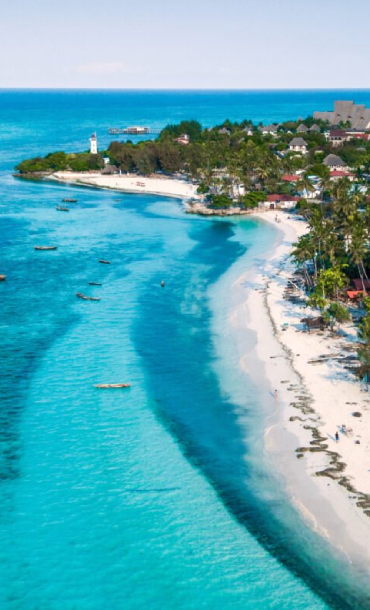 ZANZIBAR
Zanzibar is reputed to have some of the best diving in the world, and the coral reef structures that surround Unguja and Pemba ensure that the marine life is abundant. Good visibility (20 – 60 metres) and a year-round average water temperature of 27°c ensure that you enjoy your Zanzibar diving experience, and also present an ideal opportunity for learning to dive or upgrading your diving qualification.
There are several dive centers on the island and most run courses using the international PADI system of diver education. This way, the certification you gain in Zanzibar can be used anywhere in the world.
Diving in Zanzibar isn't restricted to beginners. Experienced scuba divers can enjoy exciting wall dives, night dives and drift dives. In deeper waters, lush coral gardens often stretch as far as the eye can see, and large game fish (barracuda, kingfish, tuna and wahoo) hunt together with large Napoleonic wrasse, graceful manta rays and sharks. Shallower waters are the playground of tropical fish, including a huge variety of Indo-Pacific marine fauna.
Whilst most visitors to the Zanzibar archipelago visit Unguja, commonly known as Zanzibar Island, fewer take advantage of the fact that this is an archipelago, with several other islands and numerous islets.
Only a few kilometres from Stone Town are several islets such as Chumbe and Chapwani, where good accommodation is available. Bawe and Prison Islands are good for daytrips with excellent snorkeling available. Tumbatu Island, off the north-west coast of Unguja is one of the largest off-shore islands but has no facilities for tourists. Mnemba Island is located near the north-east coast featuring luxury accommodation. Although Mnemba is a private island, it is surrounded by a rich coral reef, which is great for scuba diving and snorkeling and is visited by several watersports centers in the area.
PEMBA
Pemba is Zanzibar's sister island. Despite many years of isolation from the outside world, Pemba is receiving a small but growing number of foreign visitors. The infrastructure much less than on Unguja, and there are far fewer tourists. Beautiful beaches, natural forests and outstanding diving are just some of the attractions on offer. Misali Island, off Pemba's east coast, is idyllic and excellent for diving.
Zanzibar also boasts several small offshore islands which are ideal for a day-trip. Prison (or Changu) island is the most popular with tourists because it is only a short trip from Stone Town. Originally, it was used by Arabs to detain uncooperative slaves, and then a jail was built by the British, but it was never actually used. Visitors to Zanzibar will notice a large population of ancient Aldabra tortoises. Other islets near to Stone Town are Chapwani, Chumbe and Bawe.